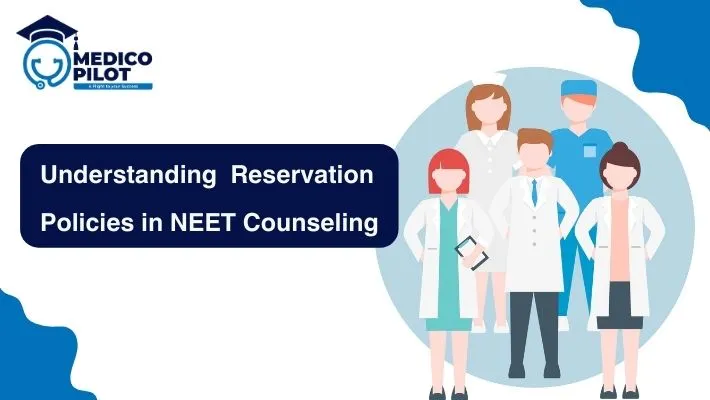 Understanding Reservation Policies in NEET Counseling
Reservations in NEET counseling refer to the allocation of a certain percentage of seats in medical and dental colleges to specific categories of candidates based on various criteria. These reservations are designed to   provide opportunities for candidates irrespective of social equity, diversity, access to healthcare education. It is also beneficial for candidates from disadvantaged or underrepresented groups to access medical and dental college seats. These policies aim to promote social equity and diversity in the field of healthcare education. The specific reservation policies can vary from one state to another in India, but they generally fall into the following categories:
1.Scheduled Castes (SC): A percentage of seats (usually ranging from 15% to 25%) is reserved for candidates belonging to Scheduled Castes. This NEET counseling reservation is based on the population of SC communities in the respective state or union territory.
2.Scheduled Tribes (ST): A percentage of seats (typically 7.5% to 10%) is reserved for candidates belonging to Scheduled Tribes. Similar to SC reservations, the percentage is determined by the ST population in the region.
3.Other Backward Classes (OBC) Reservation: A percentage of seats are reserved for candidates from OBC communities. The percentage may vary by state. Some states also have a separate category for Economically Weaker Sections (EWS) within the OBC category, which has its own reservation.
4.Physically Handicapped (PH) Reservation: A certain percentage of the NEET counseling seats are reserved for candidates with physical disabilities. The percentage can vary, and different states may have different criteria for determining eligibility.
5.State Quota Reservation: States often have a quota for candidates who are residents of that state. A certain percentage of seats in medical colleges are reserved for these state residents. The percentage of state quota seats can vary from state to state.
6.Management Quota: Some seats in medical and dental colleges are allocated under the management quota, where colleges have the flexibility to admit students based on criteria set by the college. This often includes a significant financial component, such as a donation.
7.NRI Quota: There is also an NRI (Non-Resident Indian) quota, which is reserved for NRI candidates. These seats usually have higher fees.
8.All India Quota: A certain percentage of seats are reserved for candidates from the All India Quota. This allows students from any state to compete for a portion of the seats in medical and dental colleges in other states
It's important to note that the specific reservation policies and percentages can change over time and may vary between different states and institutions. As such, it's crucial for NEET aspirants to check the reservation policies of the state they are applying to and the specific colleges they are interested in. Candidates must also meet other eligibility criteria, such as NEET qualification scores, age limits, and educational qualifications, to be considered for admission. Understanding the reservation policies and eligibility criteria for the state in which you are seeking admission is essential for a successful NEET counseling process. It's also advisable to regularly check the official NEET website or other authorities and institutions for the most up-to-date information on reservation policies and counseling procedures.