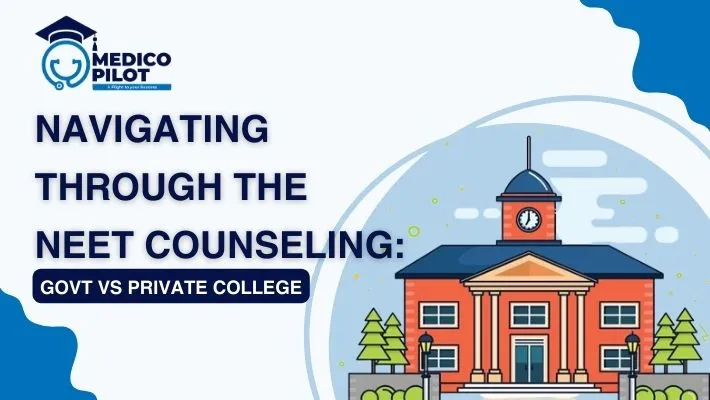 Navigating through the NEET Counseling: Govt vs. Private College
Navigating through NEET counseling to choose between government and private medical colleges is an important decision that can impact your medical education and future career. Here are some considerations to help you make an informed choice:
1.Government Medical Colleges:
a. Affordability: Government medical colleges usually have lower tuition fees compared to private colleges. This can significantly reduce the financial burden on you and your family.
b. Quality of Education: Government colleges often have experienced faculty members, well-equipped labs, and excellent clinical exposure due to tie-ups with government hospitals.
c. Prestige and Reputation: Government medical colleges are generally well-established and have a strong reputation in the medical field.
d. Patient Diversity: Government hospitals associated with government colleges cater to a diverse patient population, offering exposure to a wide range of cases.
e. Availability of Seats: Government colleges generally have a larger number of seats compared to private colleges, increasing your chances of securing a seat through counseling.
f. Residency Opportunities: Government medical colleges often provide better opportunities for post-graduate residency programs due to their reputation and infrastructure.
g. Infrastructure: While some government colleges might have excellent infrastructure, others could be lacking in terms of modern facilities and resources.
h.Competition: Due to the lower fees and reputation, government medical colleges can be highly competitive to get into. You need a higher NEET score to secure a seat.
2.Private Medical Colleges:
a. Availability of Seats: Private colleges might offer more available seats, which could increase your chances of getting admitted, especially if your NEET score is slightly lower.
b. Infrastructure: Many private colleges invest in state-of-the-art infrastructure, well-equipped labs, and modern teaching methods.
c. Quality of Education: Private colleges can provide high-quality education with experienced faculty, although this might vary from college to college.
d. Clinical Exposure: The quality of clinical exposure might vary. Some private colleges have their hospitals, while others have tie-ups with private hospitals.
e. Research and Innovation: Some private colleges focus on research and innovation, providing opportunities for students interested in academic pursuits.
f. Networking and Alumni: Private colleges often have strong alumni networks that can help in terms of placements and career opportunities.
g. Scholarships and Financial Aid: While private colleges are generally more expensive, they might offer scholarships or financial aid based on merit or need.
h. Residency Opportunities: While government colleges might have an advantage here, many private college graduates also secure residency positions.
3.Considerations for Both:
a. Accreditation: Ensure that both government and private colleges are accredited by the relevant medical council to ensure the legitimacy of your education.
b. Location: Consider the location of the college, as it can impact your lifestyle and clinical exposure.
c. Future Goals: Think about your long-term goals. If you're interested in academia, research, or a specialized field, consider which type of college aligns better with your aspirations.
d. Financial Situation: Assess your financial capacity and willingness to take on loans if you choose a private college.
e. Personal Preferences: Consider your learning style, preferences, and comfort level in a particular environment.
Ultimately, the right choice depends on your individual circumstances, goals, and preferences. Carefully research and weigh the pros and cons of both government and private medical colleges before making your decision.